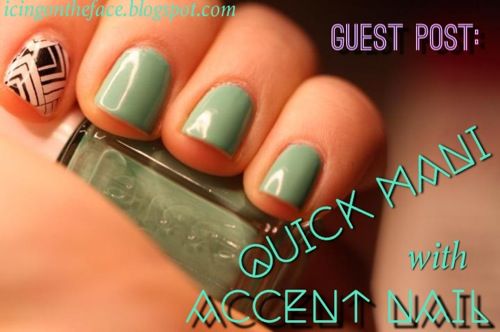 Hello everyone! I'm Angela from
Icing On The Face
where I blog about all things
beauty
. I share
product reviews and comparisons
, favorites, tips and tricks,
nails
,
everything
. I know that Nik and Desirae have had quite a
busy
summer and because of that I want to share my favorite
quick
but fun nail look. This is something I love to do when I want an
eye-catching
and cute
nail look
but don't want to spend a lot of
time
on nail art or applying glitter
meticulously
. No sitting down and taking
20 minutes
to think up a design and then an
hour to execute
(if you've ever done nail art then you already know what a time-eater it truly is).
Sally Hansen's Salon Effects Real Nail Polish Strips
are really quick and
easy
to apply and have great lasting abilities. Okay, call me a
cheater
when it comes to nail art; I'll take it. They're fool-proof and there's
no
drying time! I don't always have the time or patience, does that mean I have to forfeit the
cute designs
? Just let me cheat, alright?
Whenever I use
any
nail polish strips I always save what is left for a rainy day (they all come with extras). Just make sure you put them in a
ziplock bag
so that they will not dry out. When I'm in a
hurry
, I just add my leftover nail strips to one nail and paint the rest a
pretty color
. For this look, I chose
Essie's First Timer
which I am loving for summer and as a contrast to the black and white of the
Tri-bal It On
nail strip by
Sally Hansen
. If you want more tips for making the leftovers really work, check out my post
Making Sally Hansen Salon Effects Real Nail Polish Strips Go Farther
.
Please share if you recreate this! Hope you enjoyed!